Understanding the major families of plastics to make the right choice of packaging
The term "plastic" encompasses a large family of materials. Each one has its specificities and uses. Whether you need flexible or hard packaging, whether it is a film or a jar, whether you are looking for barrier protection or simple rigidity, whether you are packaging products liquid or dry, you need a suitable material. There are also eco-responsible considerations: there are plastics from recycling, fully recyclable plastics, potentially recyclable plastics, but not yet recycled in the channels in place, biodegradable plastics in regulated industrial environments, etc.
SEMCO has selected its plastic materials based on its specialization in jars, bottles and pillboxes, taking into account its objectives to address the environmental impact.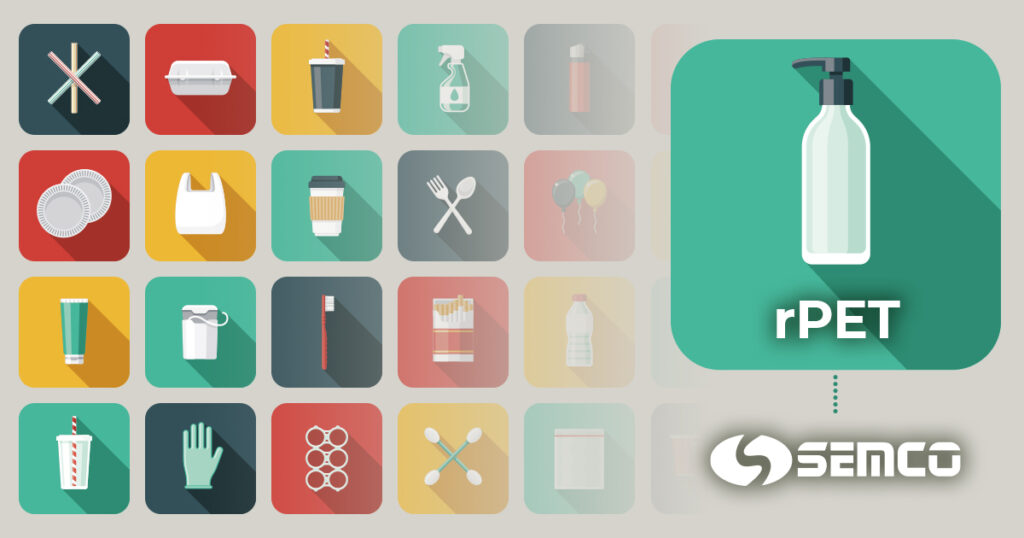 PE is the abbreviation for polyethylene. It comes from petroleum. This plastic material is available in high density: it is the rigid PE of bottles or jars; and low density: it is the flexible PE of plastic films or flexible packaging. PE is suitable for food, cosmetic, pharmaceutical, industrial markets.
High density PE (HDPE, or HDPE for the English version) is recyclable and integrates sorting channels. It is resistant to humidity, impact and some chemicals.
This is the PE that we at SEMCO use for our jars, pill boxes and bottles.
The Green Version: vegetable PE
Unlike conventional PEs, plant PE is not formulated using non-renewable fossil resources, but using natural resources derived from biomass, which is therefore 100% renewable. For the past ten years, SEMCO has established a partnership with a producer and manufacturer recognized for its expertise and its eco-responsible commitment. Its plant EP is generated from sugar cane, in a sustainable agricultural approach, respectful of the environment.
SEMCO bottles, jars and pillboxes are available in this vegetable PE, with the same recyclability characteristics. PE therefore has a double advantage: its green sourcing and its recyclability.
The Choice of PET for flasks and bottles
PET (sometimes called PETE) is the preferred type of plastic material for beverage and liquid containers: bottles and flasks. It is used as well for oils and water (food), syrups (pharmaceutical), lotions and shampoos (cosmetics), as for food supplements (nutrition). It meets the criteria of food, harmlessness and recyclability. PET bottles and bottles join the French and European recycling channels without restriction.
The recycled version of rPET
RPET is the recycled alternative to PET. RPET incorporates recycled plastic into its composition. SEMCO offers rPET in two versions: with 50% recycled PET and with 100% recycled PET. RPET is used, like PET, for bottles and vials, and offers the same food and safety characteristics. It is also completely recyclable.
Some other plastic materials used in packaging
There are many other plastic materials.
PP plastic (polypropylene): PP is found in the food industry. Since 2019, it has been one of the recyclable plastics and effectively recycled in sorting channels. This is how jars of margarine can become, thanks to the circular economy, handles of razors.
Bio-PET: This is the green version of PET, with a variable percentage composition of plant-derived ethylene glycol. Bio-PET makes it possible to reduce the proportion of material derived from petrochemicals in a packaging. It is recycled in the same way as conventional PET.
The eco-responsible design of packaging begins with the choice of material.
It is up to the brands to define, according to their policy, the type of plastic that will best correspond to their image and their CSR policy… we support brands towards the most judicious and intelligent choice for them!